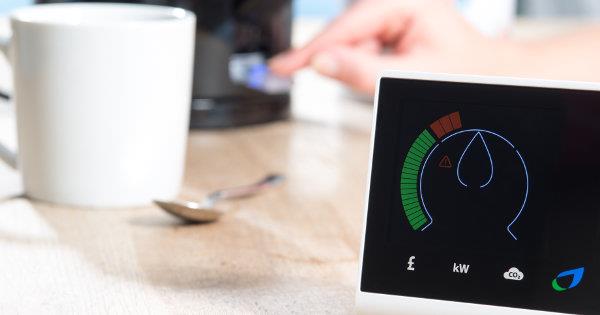 Have you ever wondered how much money you waste by leaving the TV on all day? How much it costs to keep your home toasty warm during the cold winter months? With the ongoing rollout of smart energy meters, you will need to wonder no longer. With the aim being that smart meters will be available to every home in the UK by 2020, you can soon have a new way of monitoring your energy usage.
Smart meters are a new type of energy meter for gas and electricity that allow you to monitor your energy consumption in real time. The rollout of these meters is a key part of the Government's commitment to reducing our carbon footprint and modernise the UK's energy network. Having a new smart meter won't be compulsory, the choice to have one installed will be up to you, but the Government and energy companies are keen to promote the benefits of smart meter use and more than four out five smart meters users recommend them1.
Between now and 2020 energy suppliers will be contacting their customers to offer a free installation of a smart meter but you can ask your supplier directly to install one now. How fast your supplier can fit a smart meter will depend on who you are with and where you live.
As part of the installation, you get a free smart meter display device which lets you track your energy usage in real time, this helps massively in cutting down your energy bills as you can very easily see the effects of leaving multiple high energy usage devices on. For instance, you will see that your usage is very low at night but switch on a hairdryer or start boiling the kettle in the morning and you will see the usage meter shoot straight up.
As well as monitoring your usage you can set budgets within the device so it can warn you if your usage is going to exceed your budget for the coming week/month. You can also see a history your energy usage for the last hour, day, week or month. There will no longer be any need to let anyone into your house to read the meter or send off readings to your energy company as everything is uploaded straight to your energy supplier.
These smart meters are also compatible for pay as you go energy customers which is extra helpful for those on a budget as you can easily see if something is eating away at your credit. Topping up just became a lot easier as well, no more plodding off to the shops in the wind and the rain as you can top it up as easily as you can a pay-as-you-go phone.
How do I get one?
If you are a British Gas customer you can sign up via British Gas, they offer appointments within a matter of days and take about an hour to fit. The obvious thing to note is that you will have your services switched off during this period so the engineer doesn't electrocute himself or blow your house up.
For other energy providers, hit up their websites and see about ordering a smart meter today!
---
Enjoyed this post?