The Problem of Fly Tipping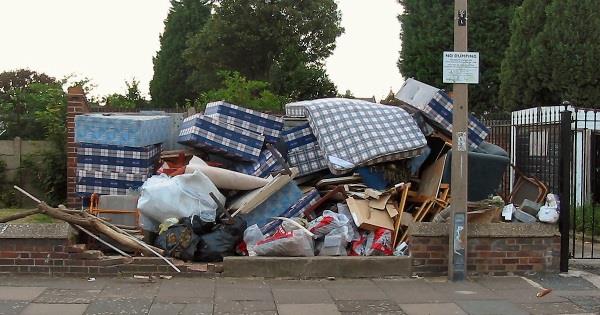 Fly-tipping - dumping of rubbish or bulky items on land not licensed to receive it is a major problem. Not only is it illegal, it is also bad for the environment, can be dangerous to health and costs significant amounts of public money to clear away, money which could be better spent elsewhere.
Until recent years there was a downward trend in fly-tipping but sadly this has seen an increase in 2013/14 where there were 852,000 recorded episodes and this increase has continued into 2014/15, with some 900,000 incidents. According to DEFRA household waste, including leftover DIY material and abandoned electrical goods, accounted for nearly two thirds of all fly-tipped rubbish in England. The estimated cost of clearance of fly-tipping to local authorities in England in 2014/15 was nearly £50 million, an 11 per cent increase on 2013/14, with this figure not even taking into account the cost to private individuals of removing rubbish dumped on their land.
Fly tipping is such a prevalent problem that the newspapers are full of stories of locals fed up with the issue and offenders getting caught and prosecuted. Just a couple of examples include Manir Ali a taxi driver from Moorgate who was ordered to pay an £800 fine, costs of £675 and a victim surcharge of £80 for dumping 20 black bags of garden waste and Sheffield builder Terry Dey ordered to pay an £230 fine, costs of £560 and victim surcharge of £23 for shovelling waste off the back of a lorry onto a road.
Prosecuting fly tippers is often a lengthy process and with this in mind the government has introduced new powers to local authorities to deal with it quickly and efficiently, without the need to take offenders to court. As of 9th May this year councils can issue fixed penalty notices of between £150 and £400 for small scale offences such as as dumping pieces of broken furniture, old televisions or mattresses.

Some people have fallen foul of fly tipping laws when they have, in good faith, paid a business to take away their rubbish such as the Plymouth woman who was recently publicly shamed on social media after her address was found amongst household waste she had paid to be removed and disposed of. These 'businesses' have become more and more popular as they advertise cheap rubbish removal on local Facebook community sales groups. To avoid getting duped ensure you check with the Environment Agency that they are registered carriers. You are ultimately responsible for your waste and could be prosecuted if you dispose of it through an unregistered trader, even if they dump it without your knowledge.
Finally, if you witness someone dumping rubbish or spot fly tipped waste you can report it to your local authority here or through the very useful FixMyStreet.
---
Enjoyed this post?